What our patients are saying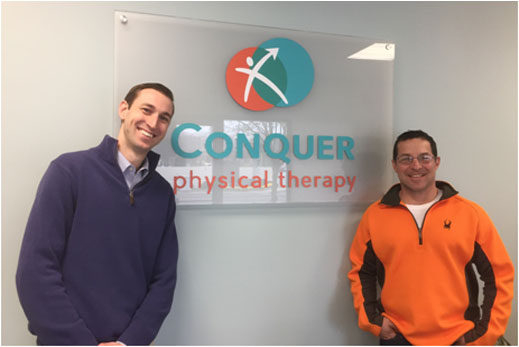 MY VERTIGO WAS SUCCESSFULLY CURED!
"I had been suffering with vertigo for 3 years and had visited many specialists and doctors before I was finally lucky enough to be referred to a knowledgeable and experienced professional. Robert Purslow diagnosed my symptoms and fully understood my issue within minutes. He provided me with a thorough understanding of the problem and was able to successfully cure me.
Robert is a true professional. He is able to deliver a clear and concise message and follow up with a pin point plan of action. I am lucky to have met Robert and would not hesitate to recommend him in the future."
-Bob Pepitone, Wilton, CT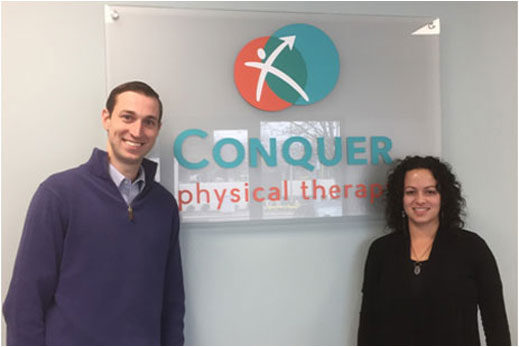 BACK TO MY YOGA PRACTICE
"I had been to a couple of physical therapists before finding Conquer PT and nothing compares to level of care that Rob has to offer.
From my first session he knew exactly what was going on with my shoulders and explained it to me in a way that nobody had before, which brought me instant relief.
Throughout my care, especially the manual therapy, my shoulders regained mobility and I've been able to get back to my yoga practice without feeling like I'm going to re-injure myself. Having that kind of confidence is priceless."
-Lindsay Weisenthal, Norwalk, CT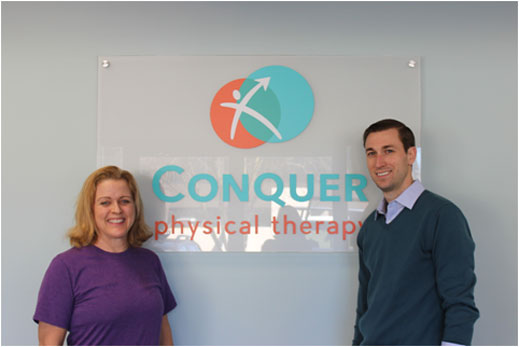 MY THERAPY HAS BEEN TRANSFORMATIVE
"My therapy at Conquer Physical Therapy has been transformative. Rob thoroughly understood my injuries, anatomy, and how to get to the next stage of getting stronger. Because this damage was done years ago, it wasn't easy for me to find anyone willing to address it quite this way.
Rob was informative in a gentle manner but strong on implementing good practices in my head. Daniela has a deep understanding of natural products and health, which makes the difference in the atmosphere, office setting and care provided.
I would recommend this practice to anyone."
-Whitney Stewart, Weston, CT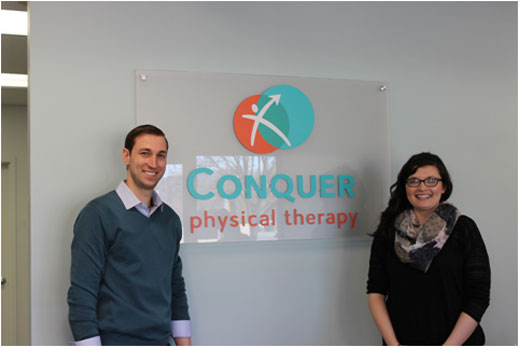 I HAD INSTANT RELIEF ONCE I STARTED PHYSICAL THERAPY!
"When I hurt my neck I had constant pain and trouble even sitting at my desk. Once I started seeing Rob I had some instant relief.
Rob is great to work with – not only is he knowledgeable but he breaks things down to make them understandable. Rob has a great bedside manner – he makes you comfortable and keeps you laughing during treatment.
I was thankful to find someone so great to help me get back to normal and I will be sure to return to Rob with any future issues!"
-Amanda Frazier, Norwalk, CT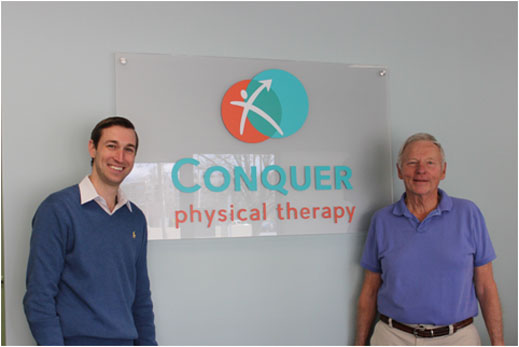 I CAN WALK UNLIMITED DISTANCES
"I came to Conquer Physical Therapy after a bilateral knee replacement, coming from the rehab hospital and after a few weeks of home care therapy. I found Rob to be immediately responsive to what was most concerning and troublesome to me.
My progress has been rewarding and steady. I am now 4 months from the surgery and I can do virtually everything, including walking unlimited distances with a normal gait. Before, my mobility was extremely limited. Walking even short distances was very painful and longer distances were not possible. Going up and downstairs was slow and painful. I am now able to do stairs without a problem.
I am thankful and grateful for the fine work that Rob did for me."
-Philip Collins, Wilton, CT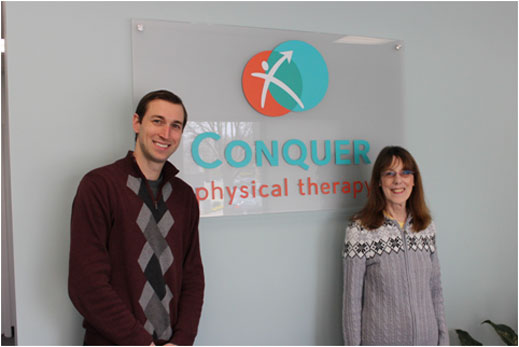 FULL RANGE OF MOTION BACK!
"I saw Rob for physical therapy for a fractured humorous in my left arm with very limited mobility. During the course of my prescribed physical therapy, Rob performed excellent physical therapy. He not only followed the prescribed regimen of exercises, but encouraged me to do additional exercises to attain strength, perform functional tasks and to maintain a better quality of life.
I have been going to Conquer Physical Therapy since February 2016, with excellent results. My arm is much better with full range of motion thanks to Rob's expertise. I highly recommend Conquer Physical Therapy."
-Nancy Smith, Norwalk, CT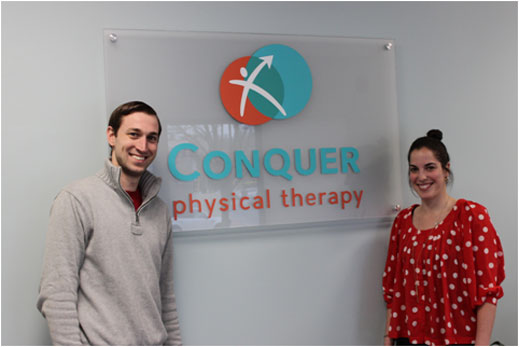 RUNNING, RIDING BIKES, AND MORE
"Working with Rob over a few months has been great.
Prior to receiving PT, I had chronic knee pain. Now, I've built up the strength in my knee (and legs) to do everything I was doing before – running, riding bikes, and more.
Thank you!"
-Sofia Whitcombe, Norwalk, CT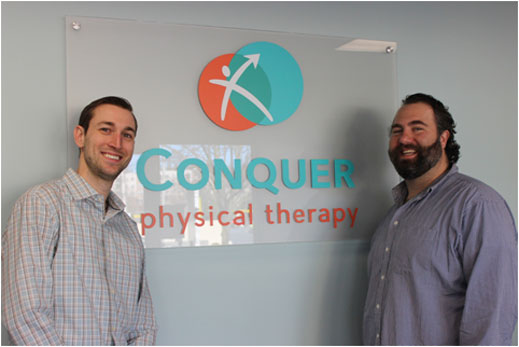 BETTER THAN PRE-SURGERY!
"My experience at Conquer PT has far exceeded my own expectations.  My doctor, Rob, and I are all happy with my progress thus far.  I went from not being able to lift my arm or do anything with my arm, having almost zero pain and I have my full motion back.
I am not only at a place I was pre-surgery, I am in a much better physical state after physical therapy.  Rob has emphasized the need to work to a place to ensure that the injury and future injuries are mitigated. Daniela and Rob are both so helpful and are very accommodating with my work and life schedule."
-Lex Levy, Wilton, CT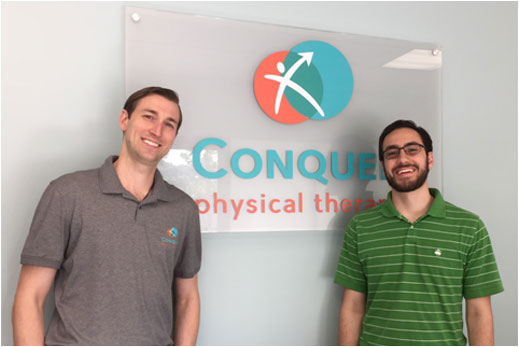 BACK TO GOING TO NYC AND SPENDING HOURS WALKING
"I could not be happier with my experience at Conquer Physical Therapy.  When I first met Rob I could not do more than 5 minutes of plyometric exercise without being in intense pain. Walking for even a mile would leave me in significant pain and I would not want to do anything but ice it for the next few days. I am now able to get back to living my life the way I want: going to NYC and spending hours walking around, hiking, exercising, etc. 
Rob sits down and listens to you one on one. He takes this time and completely devotes himself to learning about your issue. He does a wonderful job at explaining why you're experiencing pain or discomfort, and educates you on the treatment and prevention of your injury.  I could not be happier with the experience I had with Conquer and would highly recommend anyone experiencing physical pain."
Ryan Santoro, Norwalk, CT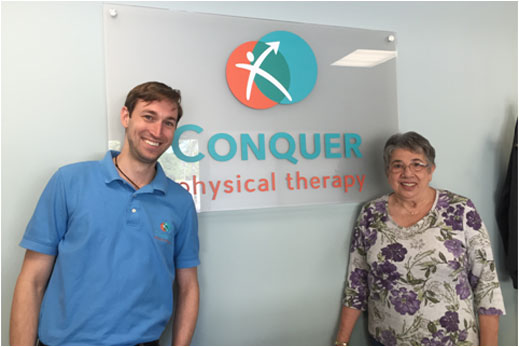 DRIVING AGAIN AND NO MORE WALKER
"After being treated by Rob Purslow for severe vertigo and then weeks later for a knee problem, I was thrilled how his physical therapy treatment helped me. I was able to start driving again and eliminate the walker I had been using since my vertigo incident.
Rob is a very pleasant, outgoing and knowledgeable Physical Therapist.
I have nothing but praise for his work ethics and highly recommend him."
Kathy Gilbertie, Norwalk, CT